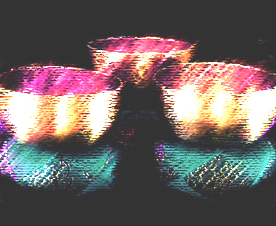 Laurel is very passionate about the potential of sound to heal and transform. Her approach to sound healing brings together her life-long interest in the healing arts and 25 years as singer and improviser. She began working with Vancouver's Callanish Society in 2004, offering sound sessions for people living with cancer. Over the years, she has developed techniques using her voice, looper and atmospheric instruments that encourage deep relaxation and hypnotic states. For several of those years, Laurel was fortunate to collaborate with and learn from hypnotherapist Lis Smith. Together they produced a hypnosis cd called "Blossomtime" for relaxation and sleep.
Sound Journeys
Research has shown that sound vibrations penetrate the body down to our DNA, affecting cells, immune function, emotions, mind and spirit. Find out what happens when this is combined with atmospheric instruments, live looping, vocal harmonies and healing intent. This unique sound experience is created in the moment and is different every time.
Sound Journeys sessions are for people who would like to experience the power and pleasure of receiving healing sound for deep relaxation, dream-like imagination, and meditation. Experienced singers create a seamless tapestry of vocal, instrumental and atmospheric music, designed to gently guide you on your own inner journey. Some people experience vivid imagery, some are moved by the sensory qualities of sound. Every session is unique.
Next public session: TBA   The Sound Journeys team can be booked for private events.
Comments:
"Delightful! I felt J & me were in our individual cocoons & I received all that was required and everyone else as well. All the sounds felt totally in sync. So beautiful." E.
"So relaxing! Felt myself totally surrounded by sound. Very healing, transformative experience. Thank you so much." A.
"Incredible – loved it – the surround sound effect, voices in unison and moving about, the drumming like a heart beat sound, all the other instruments."
"So beautiful! I felt like I was dreaming; it was surreal but entirely peaceful!"
"Brilliant! Can't think of anything that could be better. Thank you!" J.
"Thanks so much! It was so beautiful. I would like to hear more about your projects." O.
"Loved the slow momentum, the energy was irridescent and I felt truly enveloped by the sound. It was a truly breathtaking experience and I'm really looking forward to where you take this." K.